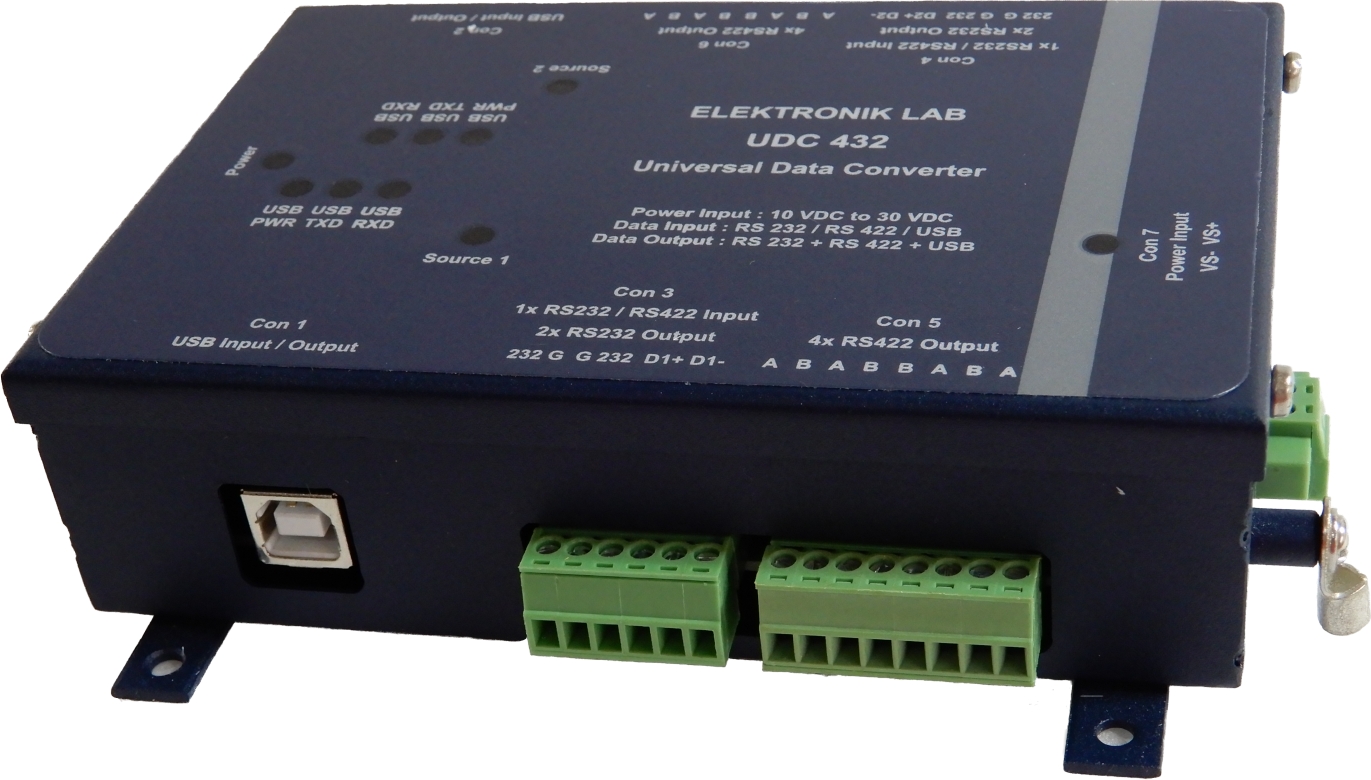 Elektronik Lab - UDC 432
Universal Data Converter
The UDC 432 Universal Data Converter is designed to convert between the RS232, RS422 and USB serial data interfaces at bit rates up to 115200 bps.
Provided with 2 independent and isolated data interface conversion ports, multiple LED indicators and a wide power input range with current limit, reverse polarity and thermal shutdown protections ; the UDC 432 is best suitable for a plethora of applications.
The data inputs on both the ports are independently selectable between RS232/RS422 or USB with an optical isolation provided on the RS232/RS422 inputs.
Multiple and Simultaneous outputs of 2x RS232, 4x RS422 and 1x USB are provided on both the ports.
The UDC 432 comes with a standard warranty of 1 Year from the date of supply of the equipment.

UDC 432 - Universal Data Converter - Brochure
Technical Specifications
Power
Input Range : + 10 VDC to + 30 VDC
Protection : Current Limit, Reverse Polarity & Thermal Shutdown
Data input
Port 1 : RS232/RS422 or USB ( selectable )
Port 2 : RS232/RS422 or USB ( selectable )
Bit Rate : up to 115200 bps.
Protection : Optical Isolation ( on RS232/RS422 )
Data Output
Port 1 : 2x RS232 + 4x RS422 + 1x USB
Port 2 : 2x RS232 + 4x RS422 + 1x USB
LED indicators
Power
Data Input Reception
USB ( Power, RxD & TxD )
Physical Attributes
Dimensions : 145mm. x 114mm. x 36mm.
Weight : 400 gms.

UDC 432 - Universal Data Converter - Brochure