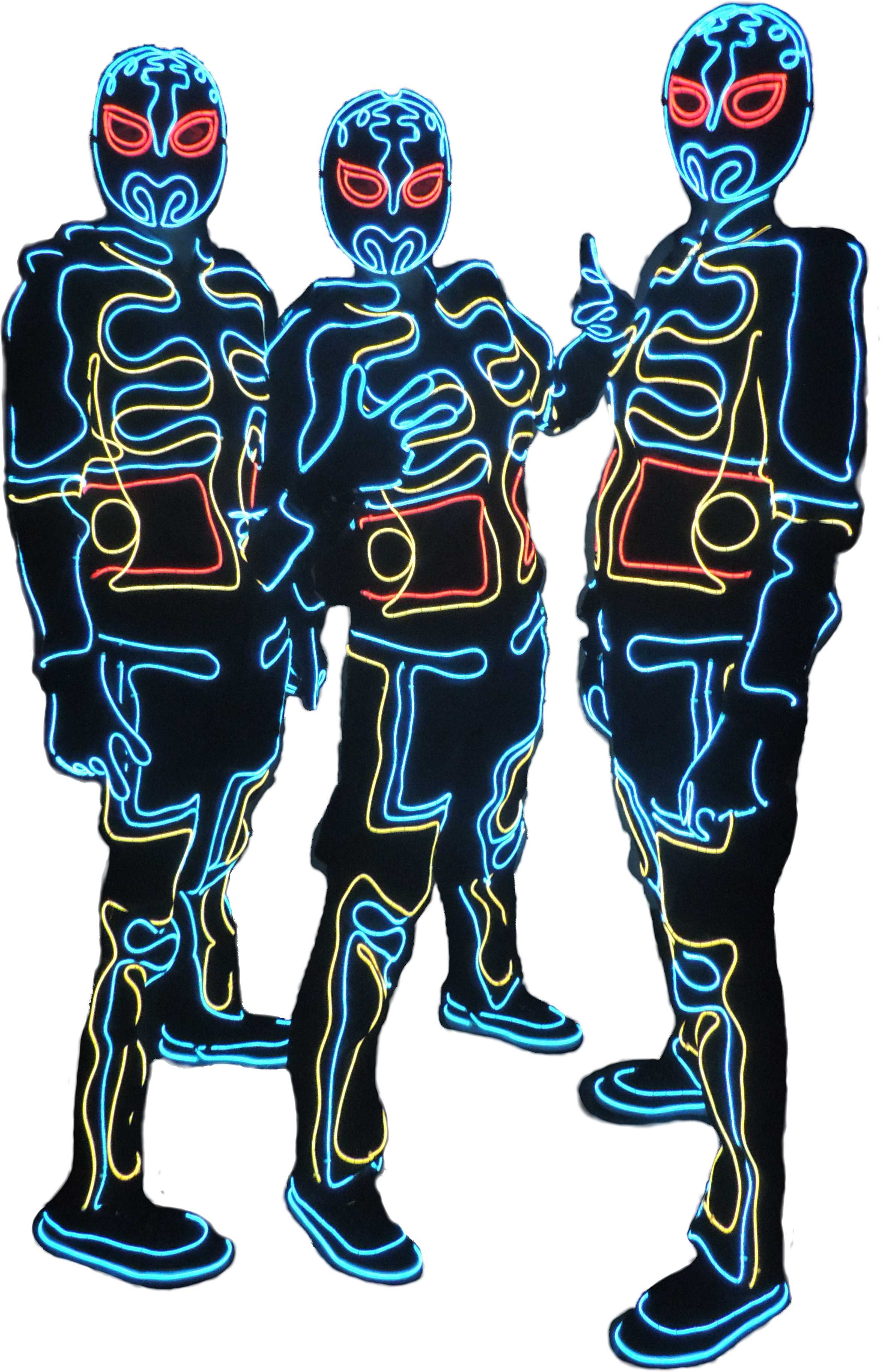 Techniques Merged - elTRONpro 6
Wireless Tron EL Costume Sequencer & Controller
The elTRONpro 6 system consists of the synchronized pattern sequencing and control of the electro luminescent ( EL ) wires, tapes, strips and panels fitted on Tron EL costumes, accessories, display panels, etc.
The elTRONpro 6 system can control up to 30 battery powered receivers by virtue of wireless control using a transmitter interfaced with a simple and user friendly Windows compatible software
Being a totally indigenous design and development, the elTRONpro 6 system facilitates a hassle free upgradability, serviceability and repairability
Manufactured using highly reliable industrial grade components, the complete elTRONpro 6 system has been engineered to provide a long term operability as well as reliability
Clientele for the elTRONpro 6 system would include event & show organizers, choreographers, dancers, entertainers, movie makers, etc.

elTRONpro 6 - Wireless Tron EL Costume Sequencer & Controller - Brochure
Key Features
· Rugged design using highly reliable industrial grade components for a long term operability
· Microcontroller based circuitry for high speed performance and reliability
· Safe and shock proof engineering using insulated and secured connections especially at high voltage points
· High immunity towards external RF interferences for optimum and error free data throughput
· Hassle free serviceability and repairability in case of component failures or damage
· Multiple activity, status and error indicating LEDs
· 100 ms. minimum sequence update interval
Software Specific Features
· Single panel user friendly interface with multiple shortcut keys and drop-down menus
· WAV audio file format support with track duration of up to 15 mins.
· Full playback control including selection of the playback start position
· Serial comm. port support for connection to the wireless transmitter
· Windows XP, Windows Vista, Windows 7 and Windows 10 compatible
Receiver Specific Features
· 2 tier PCB assembly for isolation between the high voltage EL circuit and the low voltage intelligence circuit
· Receiver address selection for up to 30 individual addresses / costumes
· 8 programmable EL output channels with a unique EL wire short circuit protection
· Light weight and compact design for ease of placement within costumes
· Cables numbered with tags for ease of identification and connection
· Manual full costume ON/OFF control option using an handheld switch
Transmitter Specific Features
· One touch trigger switch to conduct RF link test between the transmitter and receivers
· Optional serial data input or USB data input for input data from the computer
· Optional DC adaptor power or USB port power for DC voltage input
Compatibility
· Compatible with the ViewBicks 3.3 handheld wireless synchronous video displays system
· Simultaneous trigger and control of the elTRONpro 6 and ViewBicks 3.3 systems

elTRONpro 6 - Wireless Tron EL Costume Sequencer & Controller - Brochure